Introduction
"To Abide" simply refers to the moment-by-moment experience of walking in harmony (communion, fellowship) with the Holy Spirit; that is, without any "unresolved offenses" that are disrupting that fellowship.
The two diagrams below represent a snapshot of the same believer at two different points in time.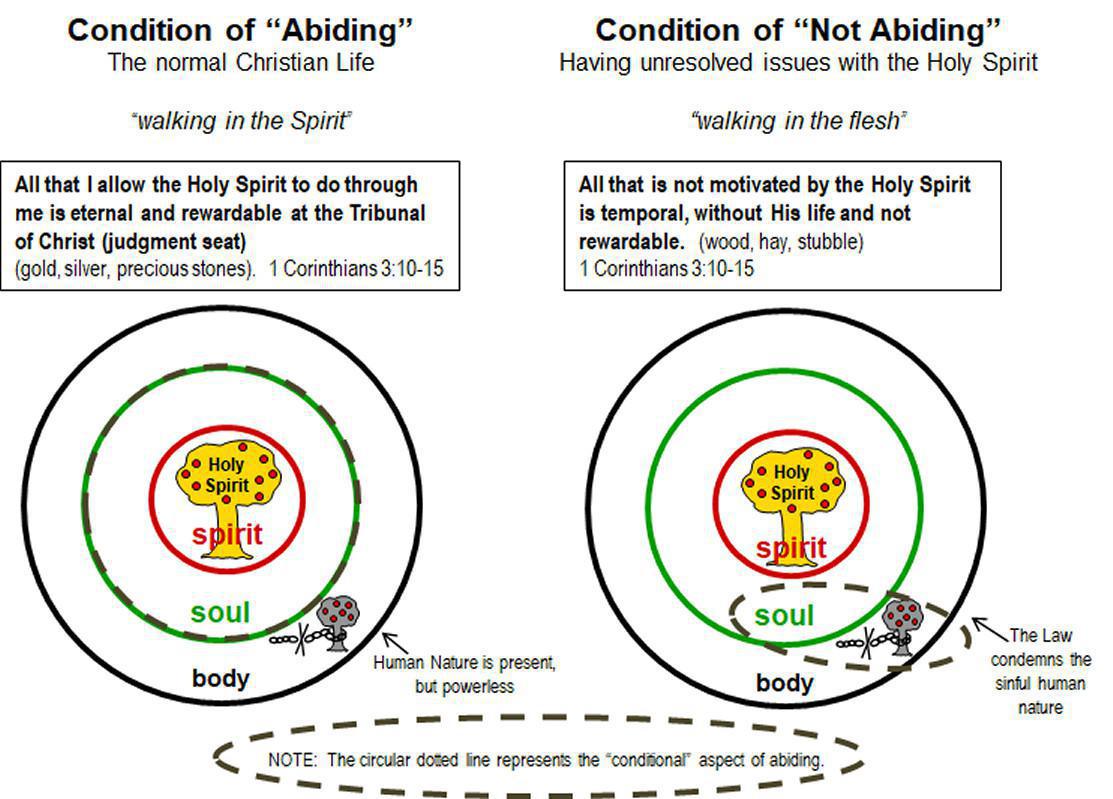 Explanation of the Conditional Aspect of Abiding (represented by the circular dotted line): Although I am a believer, I still have the sinful human nature and I can choose at any given moment to remove myself from fellowship with the Holy Spirit by allowing an unresolved issue(s) to come between the Holy Spirit and me.
While the Holy Spirit does not change, my relationship with Him is "conditional" upon my choosing to walk in harmony with the Holy Spirit rather than walk in the flesh.
God has made provision for EVERYTHING I need to be in fellowship with Him (abide with Him). 2 Peter 1:3 His divine power has given us everything required for life and godliness through the knowledge of Him who called us by His own glory and goodness.
Abiding Principles
1) Why is it so important for me to abide?
​a) God is looking for available vessels (instruments).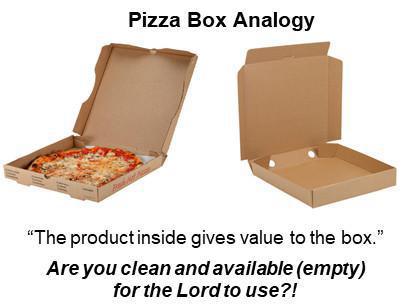 God has eternal purposes that He wants to complete in and through my life. While I am abiding in fellowship, the Holy Spirit is free to produce His fruit through me as a usable vessel (conduit).
​At any given moment I can allow myself to become unusable through my unwillingness to remain in fellowship with Him. I should picture myself as an instrument, a vessel, a water glass, etc. A vessel's main function is to be available and usable by its owner, not to perform on its own. Is God as the Potter free to use me at any moment as He chooses?
Romans 6:13 And do not offer any parts of it to sin as weapons for unrighteousness. But as those who are alive from the dead, offer yourselves to God, and all the parts of yourselves to God as weapons for righteousness.
Romans 6:19 I am using a human analogy because of the weakness of your flesh. For just as you offered the parts of yourselves as slaves to moral impurity, and to greater and greater lawlessness, so now offer them as slaves to righteousness, which results in sanctification.
2 Corinthians 4:6-7 For God who said, "Let light shine out of darkness," has shone in our hearts to give the light of the knowledge of God's glory in the face of Jesus Christ. Now we have this treasure in clay jars, so that this extraordinary power may be from God and not from us.
2 Timothy 2:20-21 Now in a large house there are not only gold and silver bowls, but also those of wood and clay, some for honorable use, some for dishonorable. So if anyone purifies himself from anything dishonorable, he will be a special instrument, set apart, useful to the Master, prepared for every good work.
b) We tend to focus on performance, but this lesson is not about doing, but rather about being.
What I do is a result of what I am being.
What is the function of a branch? To be, or to do?
John 15:5 (Jesus said) "I am the vine; you are the branches. The one who remains (abides) in Me and I in him produces much fruit, because you can do nothing without Me."
Matthew 12:34 …For the mouth speaks from the overflow of the heart.
---
c) It will help to look at this lesson as if it were entitled "How To Live In Continual Harmony With My Spouse or Close Friend,..."
... because this is the clearest model God designed and gave us. Examining the husband - wife model (or a close friendship) will give me many insights into my relationship with the Lord.
---
2) It may help to think of abiding as having three dimensions:

I need to view my relationship of abiding in fellowship with the Holy Spirit as only encompassing "TODAY".
Yesterday's issues should have already been dealt with, and I need to believe God's promises that His grace will be sufficient for tomorrow's issues, as they become "today's" issues. (We will discuss this in more depth in Lesson 1-11)
a) The Lord promises to meet our "daily" needs.
Matthew 6:8-11 … Give us this day our daily bread.
Exodus 16:4-30 Then the Lord said to Moses, "Behold, I will rain bread from heaven for you; and the people shall go out and gather a day's portion every day, … he who had gathered much had no excess, and he who had gathered little had no lack;
Psalm 68:19 Blessed be the Lord, who daily bears our burden.
b) I am told to take up my cross daily, anything greater can be overwhelming.
Luke 9:23 … If anyone wishes to come after Me, he must deny himself, and take up his cross daily and follow Me.
c) Thoughts to consider.
I must pursue the habit of keeping "short accounts" with the Holy Spirit. This means I don't want to have a backlog of unconfessed sin, guilt, or resentment. I want to confess my sins and forgive others as soon as I know something is off. In other words, I need to consciously choose to acknowledge (confess) quickly any unresolved conflict when I have offended Him or others.
The missionary Hudson Taylor stated, "We should never be conscious of not abiding in Christ" (Hudson Taylor's Spiritual Secret).
The same holds true for fellowship with my spouse or a close friend.
Ephesians 4:26-27: … do not let the sun go down on your anger, and do not give the devil an opportunity.
Acts 24:16 (Paul said) I also do my best to maintain always a blameless conscience both before God and before men.
Important: The Holy Spirit alone determines when I am being held accountable for offending Him, not me. Likewise, listening to the offended spouse (or friend) is usually the quickest first step to restoring fellowship.
During the time I am walking out of fellowship with the Holy Spirit I am forfeiting His intended blessings (eternal fruit), and will probably reap unintended consequences.
Galatians 6:7-8 Do not be deceived, God is not mocked; for whatever a man sows, this he will also reap. For the one who sows to his own flesh will from the flesh reap corruption (worthless fruit),
God promises to meet my needs. Being prudent and responsible toward the future is appropriate. But if I allow that "concern" to negatively affect my relationship with the Lord, then "worry and anxiety" can easily become sin. He wants His peace to reign in my heart.
Mathew 6:19-21 Don't collect for yourselves treasures on earth, where moth and rust destroy and where thieves break in and steal. But collect for yourselves treasures in heaven, where neither moth nor rust destroys, and where thieves don't break in and steal. For where your treasure is, there your heart will be also.
Mathew 6:25-34 This is why I tell you: Don't worry about your life, what you will eat or what you will drink; or about your body, what you will wear. Isn't life more than food and the body more than clothing? Look at the birds of the sky: They don't sow or reap or gather into barns, yet your heavenly Father feeds them. Aren't you worth more than they? Can any of you add a single cubit to his height by worrying? And why do you worry about clothes? Learn how the wildflowers of the field grow: they don't labor or spin thread. Yet I tell you that not even Solomon in all his splendor was adorned like one of these! If that's how God clothes the grass of the field, which is here today and thrown into the furnace tomorrow, won't He do much more for you—you of little faith?
So don't worry, saying, 'What will we eat?' or 'What will we drink?' or 'What will we wear?' For the idolaters eagerly seek all these things, and your heavenly Father knows that you need them. But seek first the kingdom of God and His righteousness, and all these things will be provided for you. Therefore don't worry about tomorrow, because tomorrow will worry about itself. Each day has enough trouble of its own.
Proverbs 12:25 Anxiety in a man's heart weighs it down.
Colossians 3:15 And let the peace of the Messiah, to which you were also called in one body, control your hearts. Be thankful.

I should jealously guard our fellowship by monitoring our communication moment by moment, being vigilant not to allow anything to disrupt it. I need to form the habit of not just waiting to check in from time to time at my personal convenience. It is a 24-hour per day, 7-day per week relationship.
a) Thoughts to consider.
I am told to pray continually.
1 Thessalonians 5:16-18 Rejoice always; pray without ceasing; in everything give thanks; for this is God's will for you in Christ Jesus.
"Continual" prayer is not necessarily conversation without any interruptions, but prayer that continues whenever possible.
The adverb for "continually" was used in Greek to describe a hacking cough. Paul was speaking of maintaining continuous fellowship with God as much as possible in the midst of daily living in which concentration is frequently broken.
(Walvoord, J. F., Zuck, R. B., & Dallas Theological Seminary. (1983-c1985). The Bible Knowledge Commentary: An Exposition of the Scriptures. Wheaton, IL: Victor Books.)
The husband-wife (or other close) relationship will also deteriorate unless it is consciously nurtured. (Ephesians 5:25-32)
CAUTION: Busyness can easily be a trap, causing me to neglect the Lord. Both the Holy Spirit and my spouse or close friend will be offended if I carelessly disregard or ignore them.
Neglect often conveys unimportance.
If I will ask Him, the Holy Spirit will always be faithful to reveal to me any unresolved problems between us.
I should never allow what I am doing to become more important than my fellowship with Him.
The concept of "spiritual growth" and the "maturing process" imply that there are things presently in my life that are displeasing to God. Even though the Lord is aware of those displeasing aspects of my character, He only holds me accountable for those issues that He wants to deal with today as He matures me.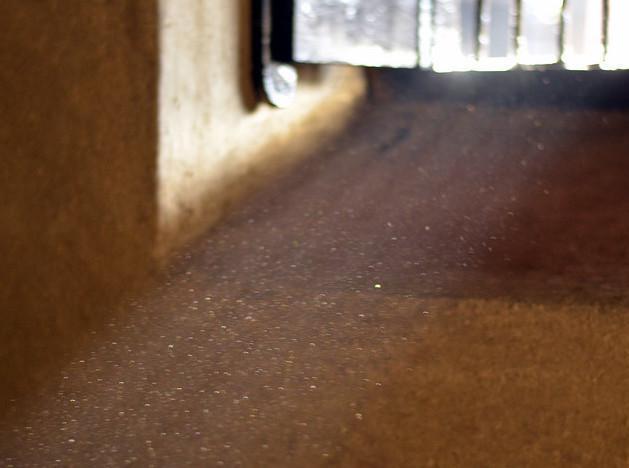 a) Illustration - Dust Particles
If I look at the air in a room, it looks relatively pure (my perspective). If a ray of light appears, many dust particles would suddenly be visible (God's perspective).
Even though my sinful human nature is totally corrupted and unholy as compared to His holiness, He sees me "in Christ," and He only holds me accountable for the issues (dust particles) that He is presently bringing to my attention. The dust particles existed, even though I was not yet conscious of their existence.
My responsibility is to be attentive to the Holy Spirit so that He can easily show me what areas of my understanding and/or behavior He wants to change. He will never burden me with more than I can handle.
God deals with me according to my maturity level (just as good parents do with their children) and my willingness to learn from Him.
Psalm 103:10, 14 He has not dealt with us according to our sins,… He is mindful that we are but dust.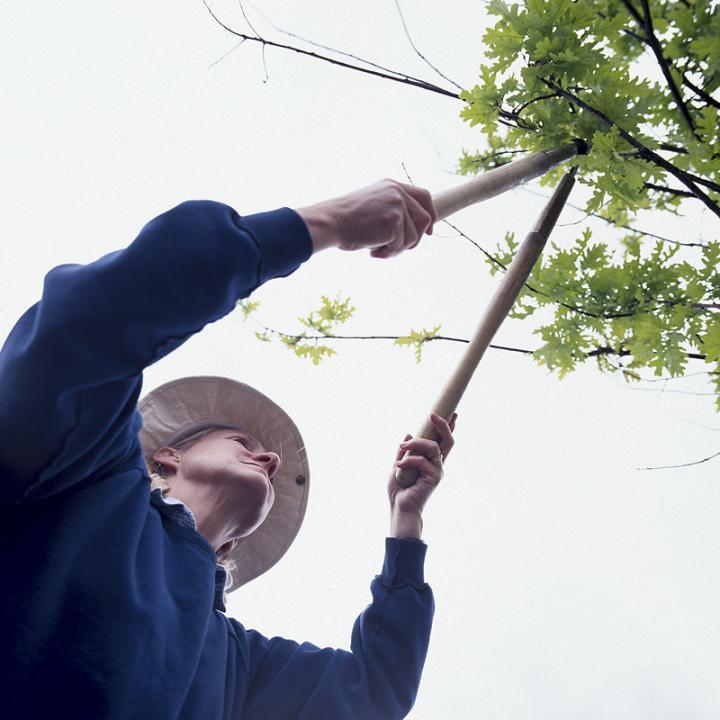 b) As I allow Him, God prunes me so that I will bear more eternal fruit.
God's process of making my life more fruitful is described as "pruning."
John 15:2 … every branch that bears fruit, He prunes it so that it may bear more fruit.
Pruning is usually not enjoyable, but always results in more fruitfulness if I allow God to finish His project.
An area of my life that appears to me to be beneficial or harmless, may from God's perspective be distracting or harmful, and a hindrance to what He wants to do in my life.
God determines what needs to be pruned. My responsibility is to be teachable and attentive to Him, careful not to allow my "good" things to rob me of God's "best." (Martha is a good example of this in these verses from Luke.)
Luke 10:38-42 While they were traveling, He entered a village, and a woman named Martha welcomed Him into her home. She had a sister named Mary, who also sat at the Lord's feet and was listening to what He said. But Martha was distracted by her many tasks, and she came up and asked, "Lord, don't You care that my sister has left me to serve alone? So tell her to give me a hand." The Lord answered her, "Martha, Martha, you are worried and upset about many things, but one thing is necessary. Mary has made the right choice, and it will not be taken away from her."
c) Caution: I should not be surprised by the sinfulness of my human nature.
As I grow spiritually, I will increasingly see my human nature as God sees it. Flaws become more visible as they are more exposed to light. The closer I am to God the more repulsive my human nature will become to me.
Ephesians 5:13 Everything exposed by the light is made clear,..
---
3) How do I know if I am not abiding – or out of fellowship with the Holy Spirit?
Ask the Holy Spirit if there are any unresolved issues.
Even though I am walking in fellowship with the Lord and have no unresolved issues, not all that I do is motivated by Him, or is even pleasing to Him. As I allow Him to grow and mature me, He will increasingly have more freedom to bear His fruit.
If I find myself out of fellowship with the Holy Spirit, it is by my choice.
I do not need to be out of fellowship with the Lord any longer than I choose to be. Restoration to the condition of abiding fellowship will take place immediately upon confession of the offense(s) for which the Holy Spirit is holding me accountable.
How can I know if I'm out of fellowship with the Holy Spirit? Usually symptoms indicate an ailing body. Similarly look for on-going spiritual symptoms of the sinful nature, such as:
critical or
judgmental attitude
4) Common misconceptions about the condition of abiding.
a) Misconception: As a believer I can keep myself in the condition of abiding through my own efforts.
Reality: At salvation I was put into the conditional state of abiding fellowship with the Lord as a result of what Jesus did on the cross, not because I deserve it.
My goal should be to please Him, and be sensitive to Him so that any issues He brings to my attention do not remain unresolved.
Those unresolved issues can disrupt my fellowship with Him, just as in human relationships.
b) Misconception: God's greatest concern about my sin is the degree to which it falls short of His standard of righteousness, and "avoiding sin" should be the primary focus of my Christian walk.
Reality: God is most concerned with the disruption sin causes in His continual abiding fellowship (communion) with me, and that it consequently hinders Him from accomplishing His purposes in and through me.
Hebrews 12:1-2 … let us lay aside every weight and the sin that so easily ensnares us. Let us run with endurance the race that lies before us, keeping our eyes on Jesus,…
c) Misconception: The condition of abiding is somehow "attained to."
Reality: Abiding is the birthright of every child of God; it is not about achieving a certain level of maturity.
Does a child have to earn the privilege of being in fellowship with their parents?
God has made provision for every Christian to live consistently in harmony with Him without extended periods of being out of fellowship.
d) Misconception: Abiding is restricted by my lack of knowledge, past experiences, or personal limitations.
Reality: What hinders God from blessing and using me as He desires is only my choice(s) and unwillingness to acknowledge and confess unresolved issue(s).
The Biblical "normal" Christian life is one of habitually abiding; not to abide is abnormal.
2 Peter 1:3-4 His divine power has given us everything required for life and godliness through the knowledge of Him who called us by His own glory and goodness. By these He has given us very great and precious promises, so that through them you may share in the divine nature,escaping the corruption that is in the world because of evil desires.
e) Misconception: Since my natural tendency is to categorize or classify "acts of behavior" and build mental lists of "do's and don'ts," it is easier to follow "my list" of perceived expectations.
Reality: As the Holy Spirit leads me moment by moment, I will increasingly form the habit of carefully looking at each choice, judging or discerning if it is pleasing to Him.
What I tend to consider "insignificant" may be very significant to Him. It will help me to consider "sin" as "anything that is displeasing to God."
Example: Do you think reading the Bible can ever be sinful?
Imagine you are resting on a riverbank reading your Bible. You notice a child struggling against the current, being swept downriver. You faithfully continue reading.
Suddenly, a mother appears frantically asking if you've seen her child. You tell her that you would have saved the child if you hadn't been reading God's Word. Imagine her response (and God's)!
This example may seem extreme, but it illustrates the danger of categorizing acts of behavior because what God deems "correct" today may be "incorrect" in a similar situation tomorrow.
John 5:30 (Jesus said) … I do not seek My own will, but the will of Him who sent Me.
2 Corinthians 5:9 Therefore we also have as our ambition, … to be pleasing to Him.
Ephesians 5:8-10 … walk as children of Light … trying to learn what is pleasing to the Lord.
Romans 14:23 … whatever is not from faith is sin.