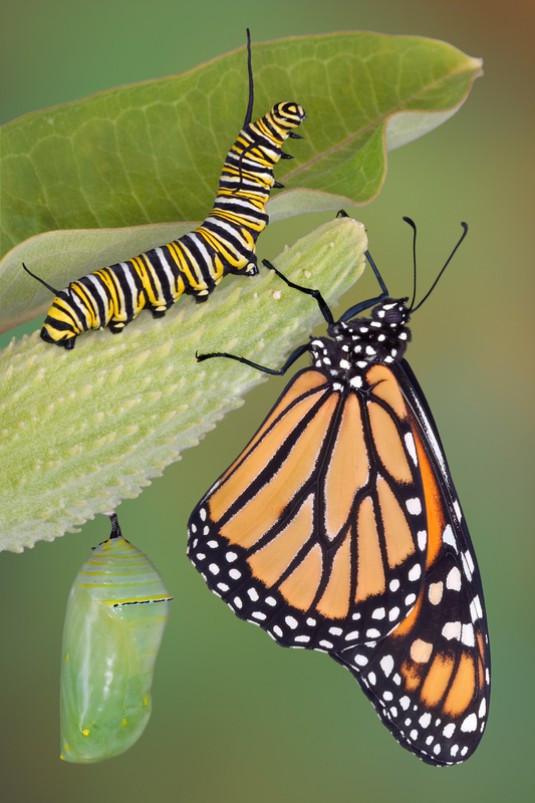 1) I should not view my daily life as being a

difficult

and

frustrating

struggle with sin, to be

endured

until I am finally delivered through death (an unpleasant, but necessary experience) into heaven.
Although I want to experience a consistently abundant life, I should not reason that only "very spiritual" believers are able to achieve that goal. God has provided everything I need to live the abundant life.
2 Peter 1:3-4 His divine power has given us everything required for life and godliness through the knowledge of Him who called us by His own glory and goodness. By these He has given us very great and precious promises, so that through them you may share in the divine nature, escaping the corruption that is in the world because of evil desires.
2) My Christian Life is Not Just

avoiding

bad behavior,

but rather

walking in the Spirit.
3) Many Christians are satisfied with

NOT

walking in the flesh. But is God simply satisfied with me

NOT

stealing or

NOT

getting drunk anymore?
It's a misconception for me to think that my Christian life is simply NOT doing "bad" things, characterized by "bad behavior."
4) One of the dangers of behavior-oriented Christianity (behavior manipulation) is that I tend to say "Before I was a Christian, I did bad things; now that I'm a Christian I stopped doing those things." But is that completely true for me?
If I am just focused on NOT doing bad things, typically it's for PEOPLE. BUT if my focus is on doing what is pleasing to God, then my focus is on GOD.
5) If my focus is on pleasing God, then I will NOT be doing the "sins" of my Old Self (walking in the flesh). Often, Christians think that when I'm walking "in the flesh", I can stop that behavior in my

own strength

. Walking "in the Spirit" (the "New Self") can only happen when I'm

abiding

in the Spirit.
It's not enough just to get rid of the darkness, but I need to have LIGHT.
6) Why is it critical for me to walk in the Spirit?
Ephesians 4:11-13 And He personally gave some to be apostles, some prophets, some evangelists, some pastors and teachers, for the training of the saints in the work of ministry, to build up the body of Christ, until we all reach unity in the faith and in the knowledge of God's Son, growing into a mature man [person] with a stature measured by Christ's fullness.
---
In Ephesians 4 and 5 Paul lists things I shouldn't be doing (the "Old Self"). But God does not just want me to have a life of avoiding sin.
Instead, Paul is pointing out (the "New Self") that God wants me to have a life of consistently walking in the Spirit, because God wants to bless me and He wants to use me in the lives of others.
---
Ephesians 4:14
OLD SELF: Then we will no longer be little children, tossed by the waves and blown around by every wind of teaching, by human cunning with cleverness in the techniques of deceit.
BUT...
Ephesians 4:15
NEW SELF: But speaking the truth in love, let us grow in every way into Him who is the head—Christ.
---
Ephesians 4:17-19
OLD SELF: You should no longer walk as the Gentiles walk, in the futility of their thoughts. They are darkened in their understanding, excluded from the life of God, because of the ignorance that is in them and because of the hardness of their hearts. They became callous and gave themselves over to promiscuity for the practice of every kind of impurity with a desire for more and more.
AND...
Ephesians 4:22-24
NEW SELF: You took off your former way of life, the old self that is corrupted by deceitful desires; you are being renewed in the spirit of your minds; you put on the new self, the one created according to God's likeness in righteousness and purity of the truth.
---
Ephesians 4:25
OLD SELF: Since you put away lying
...
NEW SELF: Speak the truth, each one to his neighbor, because we are members of one another.
---
Ephesians 4:28
OLD SELF: The thief must no longer steal.
INSTEAD...
NEW SELF: Instead, he must do honest work with his own hands, so that he has something to share with anyone in need.
---
Ephesians 4:29
OLD SELF: No foul language is to come from your mouth
BUT...
NEW SELF: but only what is good for building up someone in need, so that it gives grace to those who hear.
---
Ephesians 4:31
OLD SELF: All bitterness, anger and wrath, shouting and slander must be removed from you, along with all malice.
AND...
Ephesians 4:32
NEW SELF: And be kind and compassionate to one another, forgiving one another, just as God also forgave you in Christ.
---
Ephesians 5:3-4
OLD SELF: But sexual immorality and any impurity or greed should not even be heard of among you, as is proper for saints. Coarse and foolish talking or crude joking are not suitable,
BUT RATHER...
NEW SELF: but rather giving thanks. [as a habit]
---
Ephesians 5:7-10
OLD SELF: Therefore, do not become their partners. For you were once darkness,
BUT...
NEW SELF: but now you are light in the Lord. Walk as children of light— for the fruit of the light results in all goodness, righteousness, and truth— discerning what is pleasing to the Lord.
---
Ephesians 5:11-13
OLD SELF: Don't participate in the fruitless works of darkness,
BUT INSTEAD...
NEW SELF: but instead expose them. For it is shameful even to mention what is done by them in secret. Everything exposed by the light is made clear, for what makes everything clear is light.
---
Ephesians 5:15-16
OLD SELF: ...walk—not as unwise people
BUT...
NEW SELF: but as wise— making the most of the time, because the days are evil.
---
Ephesians 5:17
OLD SELF: So don't be foolish,
BUT...
NEW SELF: but understand what the Lord's will is.
---
Ephesians 5:18-21
OLD SELF: And don't get drunk with wine, which leads to reckless actions,
BUT...
NEW SELF: but be filled by the Spirit: speaking to one another in psalms, hymns, and spiritual songs, singing and making music from your heart to the Lord, giving thanks always for everything to God the Father in the name of our Lord Jesus Christ, submitting to one another in the fear of Christ.
---
… walk by the Spirit and you will not carry out the desire of the flesh. (Galatians 5:16)
---
Consider my behavior: where am I most comfortable?

In the "Old Self" list, in the "New Self" list, or somewhere in the middle?
Session 15 - My OldSelf-NewSelf HANDOUT