1) The Conditional aspect of abiding
(The two diagrams below are a snapshot of the same believer at two different moments in time.)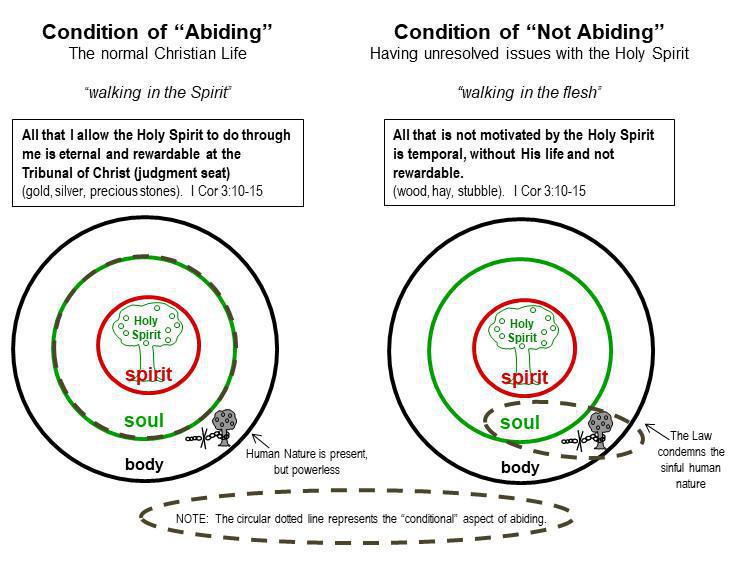 I Corinthians 3:10-15 According to God's grace that was given to me, I have laid a foundation as a skilled master builder, and another builds on it. But each one must be careful how he builds on it. For no one can lay any other foundation than what has been laid down. That foundation is Jesus Christ.
If anyone builds on that foundation with gold, silver, costly stones, wood, hay, or straw, each one's work will become obvious, for the day will disclose it, because it will be revealed by fire; the fire will test the quality of each one's work. If anyone's work that he has built survives, he will receive a reward. If anyone's work is burned up, it will be lost, but he will be saved; yet it will be like an escape through fire.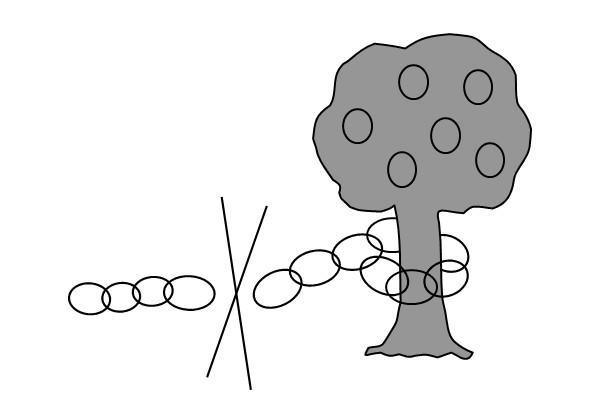 2) God uses natural examples to contrast the two natures.

Jeremiah 17:7-8 The man who trusts in the Lord, whose confidence indeed is the Lord, is blessed. He will be like a tree planted by water: it sends its roots out toward a stream, it doesn't fear when heat comes, and its foliage remains green. It will not worry in a year of drought or cease producing fruit.

Psalms 1:3 He (a righteous man) is like a tree planted beside streams of water that bears its fruit in season and whose leaf does not wither. Whatever he does prospers.

Matthew 7:17-18 In the same way, every good tree produces good fruit, … A good tree can't produce bad fruit;…

Galatians 5:22-23 … But
the fruit of the Spirit
is love, joy, peace, patience, kindness, goodness, faith, gentleness, self-control. Against such things there is no law.

2 Peter 1:4 … He has given us very great and precious promises, so that through them you may share in the divine nature,…

Jeremiah 17:5-6 This is what the Lord says: The man who trusts in mankind, who makes human flesh his strength and turns his heart from the Lord is cursed. He will be like a juniper in the Arabah; he cannot see when good comes but dwells in the parched places in the wilderness, in a salt land where no one lives.


Matthew 7:17-18 … but a bad tree produces bad fruit. …, neither can a bad tree produce good fruit.

Galatians 5:19-21 For the flesh desires what is against the Spirit, … Now the works of the flesh are obvious: sexual immorality, moral impurity, promiscuity, idolatry, sorcery, hatreds, strife, jealousy, outbursts of anger, selfish ambitions, dissensions, factions, envy, drunkenness, carousing, and anything similar….
3) I am either submitted to THE HOLY SPIRIT or to THE HUMAN NATURE.
Galatians 5:16 I say then, walk by the Spirit and you will not carry out the desire of the flesh.
Galatians 5:17 For the flesh desires what is against the Spirit, and the Spirit desires what is against the flesh; these are opposed to each other, so that you don't do what you want.
ILLUSTRATIONS:
The LAW OF GRAVITY illustrates how my Human Nature continually attracts me away from God.
Galatians 3:1-5 You foolish Galatians! Who has hypnotized you, before whose eyes Jesus Christ was vividly portrayed as crucified? I only want to learn this from you: Did you receive the Spirit by the works of the law or by hearing with faith?
Are you so foolish? After beginning with the Spirit, are you now going to be made complete by the flesh? Did you sufferso much for nothing—if in fact it was for nothing? So then, does God supply you with the Spirit and work miracles among you by the works of the law or by hearing with faith?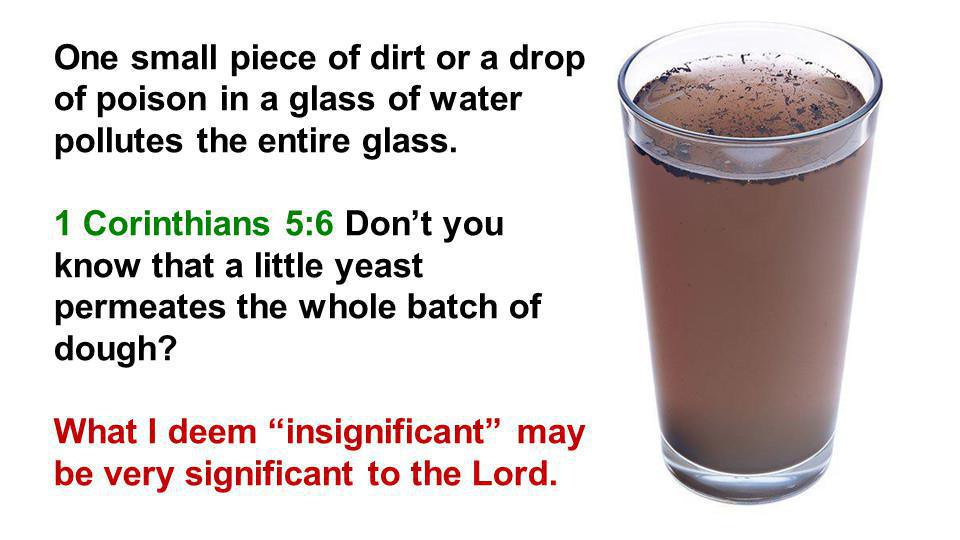 SO WHAT?
What is God telling me by what we have discussed?
________________________________________________________________
________________________________________________________________
MY RESPONSE / ACTION for this week because of our discussion:
_________________________________________________________________
​_________________________________________________________________
Session 14 - Abiding and my 2 Natures - Handout